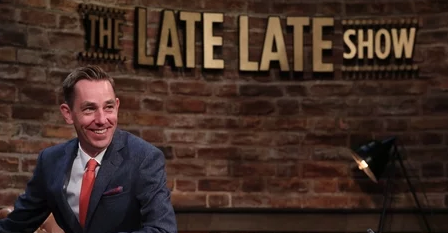 It's pretty widely accepted that the best Late Late show of the year is the toy show, right?
Dare we say that the Valentine's special comes pretty close or is actually better?  It's always has us doubled over with laughter and scrolling through Twitter you quickly realise everyone feels the same.
Last night we saw Ryan Tubridy match-making his younger than normal audience full of singletons. We also had live music from Marti Pellow and Chesney Hawkes, as well as some touching stories from childhood sweethearts who rekindled their love later in life.
The audience was loud and loose last night and there were lots of laughs to be had. Here's  what Twitter had to say!
Doorman at Coppers later #LateLateShow #latelate pic.twitter.com/rtSXYUAt7L

— Dan Dooner (@dan_dooner) February 14, 2020
There is not one person in this audience old enough or sober enough to know who Chesney Hawkes is #LateLateShow

— Aoife (@aoifebucko) February 14, 2020
Its like they won a 10 day trip to Vegas rather than 1 night in Athlone #LateLateShow pic.twitter.com/esikYT6xUt

— Tom O Regan (@rebeldispatch50) February 14, 2020
My lovely neighbours, a nicer more suited couple you wouldn't meet. Delighted they found each other after 43 years apart #LateLateShow pic.twitter.com/Bf2izEtlzB

— Wendy Dowling (@DowlingWendy) February 14, 2020
No prizes for guessing why that lad is single…#LateLateShow #latelate pic.twitter.com/tC8bnXoAad

— Raicheal Culligan (@raicheal2006) February 14, 2020
A guy winning a dating competition of the #LateLateShow because his middle name is "Mary" is maybe the most Irish thing I've ever witnessed.

— Rory Cashin (@roarEcashin) February 14, 2020
There is an older gent in the audience and I hope he finds someone 😭😭 #LateLateShow pic.twitter.com/rhgYgbBdeP

— Emmakate Forde🌸 (@EmmaKForde) February 14, 2020
#LateLateShow #ValentinesSpecial twitter reaction is now reaching excitement levels! Roll on the evening of cringe and laughter 😬🙈🤩 pic.twitter.com/Mn5CCuszzB

— Brid McHugh (@BridMcHugh) February 14, 2020