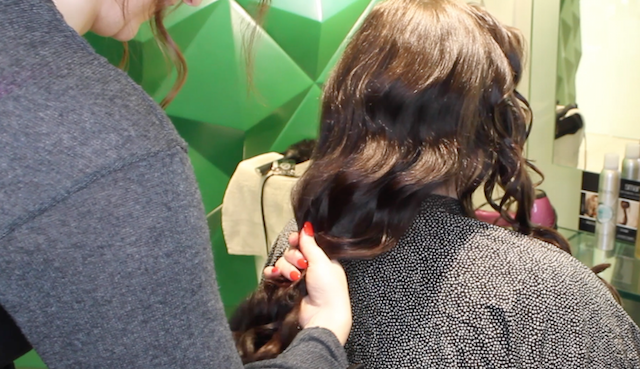 Searching for a look which will last a couple of days? We've got you covered!
Whether it's a wedding, party or simply a weekend away,  it's always ideal to have a look which can be altered and tweaked ever so slightly to change it into something brand new.
With this in mind, we visited Peter Mark's Grafton Street Salon to learn how to take a gorgeous curly do' and turn it into a glamorous up-style.
Look One
Firstly, Aisling Barrett decided to create a stunning curly look which would work for any occasion.
These big, bouncy curls will take you from day to night, and you won't need to worry about any touch-ups.
Here's how to create it yourself:
Step One
Prep the hair using Redken Iron Shape, which is sprayed into dry hair. You want to get it as smooth as possible, because the smoother the hair is, the more polished the finish look will be.
Step Two
Using the GHD soft curl thongs, curl the hair back off the face to create a softer look .
Step Three
After letting the curls cool and set we brush it through before adding Redken Quick Tease and Redken Shine Flash
Look Two
Next, Enya Burden showed us how to create a glamorous up-style.
This works perfectly on day-old hair – and with the gorgeous curls from earlier probably still intact, it'll give good volume and texture to your tresses.
Here's how to create it:
Step One
On already curled hair, I backcombed the crown area and the sides to add volume and to begin creating shape for the upstyle.
Step Two
I combed the hair to one side. I wrapped it into a french roll. Don't worry if it's messy – it'll add texture.
Step Three
I pin the hair into place, using clips similar to the hair colour.